If you're trying to figure out if becoming a medical assistant is your ideal career path, here are three pros and cons of the industry before you commit.  
Plenty more people than just doctors and nurses work in medical offices. One of the most in-demand jobs in a clinic is a medical assistant. MAs provide doctors with the resources to help medical offices run properly, including organizing appointments and assisting patients with their day-to-day questions. A medical assistant needs to know the ins and outs of the field and be able to keep an office space running smoothly. If you're interested in becoming a medical assistant, here are some pros and cons to keep in mind. 
Pro #1: Education, Flexibility, and Job Security
Training to be a medical assistant requires proper education and hard work to cross that finish line, but the opportunities are worth it. As a plus, the job market for medical assistants is growing across the country. According to a U.S. News report, the need for medical assistants is accelerating substantially over the next few years, with an estimated 15% rise in careers!  
Another of the pros of being a medical assistant is the flexibility of the career. A medical assistant can work in several locations and situations, ranging from small offices or large hospital settings. With so many medical assistants needed right now across the United States, this is a perfect career opportunity. 
Pro #2: Being a Medical Assistant Is a Gateway to Nursing and Other Healthcare Careers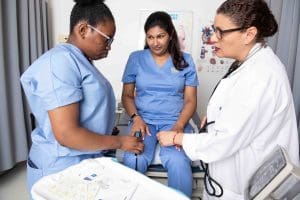 If you want to work as a nurse but are worried about putting time into that education, beginning your career as a medical assistant is an excellent starting point. Being an assistant in offices with doctors and staff, you can learn about what it's actually like to work in a medical setting alongside the pros.  
Being a medical assistant allows you to learn the trade while maintaining a set schedule and income. And if you're interested in taking on a career in nursing, you can always come back for Swedish Institute's nursing program as well!  
Pro #3: Ability to Work Directly with Patients and Doctors Alike
One of the other major pros of working as a medical assistant is interacting with everyone who walks through the door. A medical assistant's responsibilities can include communicating with patients, managing the office, coordinating appointments, taking vitals, supporting physicians, and much more.  
That means you'll be working with every single person who comes into the office. It's a lot of responsibility, but the rewards are excellent. With an average salary in the mid-$40,000 for New York City, this is a job where you'll find both personal and financial fulfillment. 
Some Cons to Consider…
Medical assistant work isn't always perfect. Here are some potential downsides to consider. 
Working in a Medical Practice Takes Dedication
Medical work is not a walk in the park. Being a medical assistant will require dedication, hard work, and a good education. One of the benefits of going to Swedish Institute for your medical assistant training is that we will help you prepare for your career. Our hands-on training, small class size, and clinical externships are all fantastic ways to prove your skills and get experience before you even graduate.   
Desk Work Lets You Help Patients, but Not Always One-On-One
Medical assistants can only do certain procedures and run some basic tests in a medical office, unlike nurses, doctors, or other medical professionals. That said, a medical assistant still works directly with patients, getting vitals and being an office's primary point of contact in addition to administrative work and organization. You still carry out tasks in all aspects of a practice, just without performing more invasive procedures. 
Bonding with Patients Can Have Downsides
If you're a medical assistant, you are often the first and last person that a patient will see in an office, and medical assistants are the people who most often speak to patients outside of the office. You might start to bond with the people your office cares for, and that can be tough depending on the condition of the patients and where you're working. These relationships can be great, but sometimes they are bittersweet if their health changes over time. 
Obviously, like all careers, there are pros and cons to being a medical assistant. It's all about what fits your personality and skill set.  If you're still curious to learn more about a career as a medical assistant, you can check out more articles about the program or get in touch with one of our specialists to learn more specifics today!