Become a Surgical Technologist
Are you someone who likes caring for others, has strong attention to detail and likes working in a team environment? Have you ever pictured yourself working as part of the surgical team in a hospital operating room? If so, a career in Surgical Technology may be right for you!
Surgical technologists work with and assist surgeons, doctors, nurses, and other healthcare workers during a surgical operation at hospitals, doctor's offices and surgical centers. Surgical technologists are vital to surgery as they prepare the operating room, pass instruments and supplies to the surgeon and ensure tools and supplies are sterile and organized.
The Surgical Technologist program at Swedish Institute provides students with the knowledge and hands-on training that helps prepare them for entry into this in-demand field and be an integral part of the surgical team in a variety of perioperative settings.
Fast Facts
State of New York average
annual wage = $60,350*

National median annual wage = $48,510*

Surgical Technologist Program Length
21 months (full-time)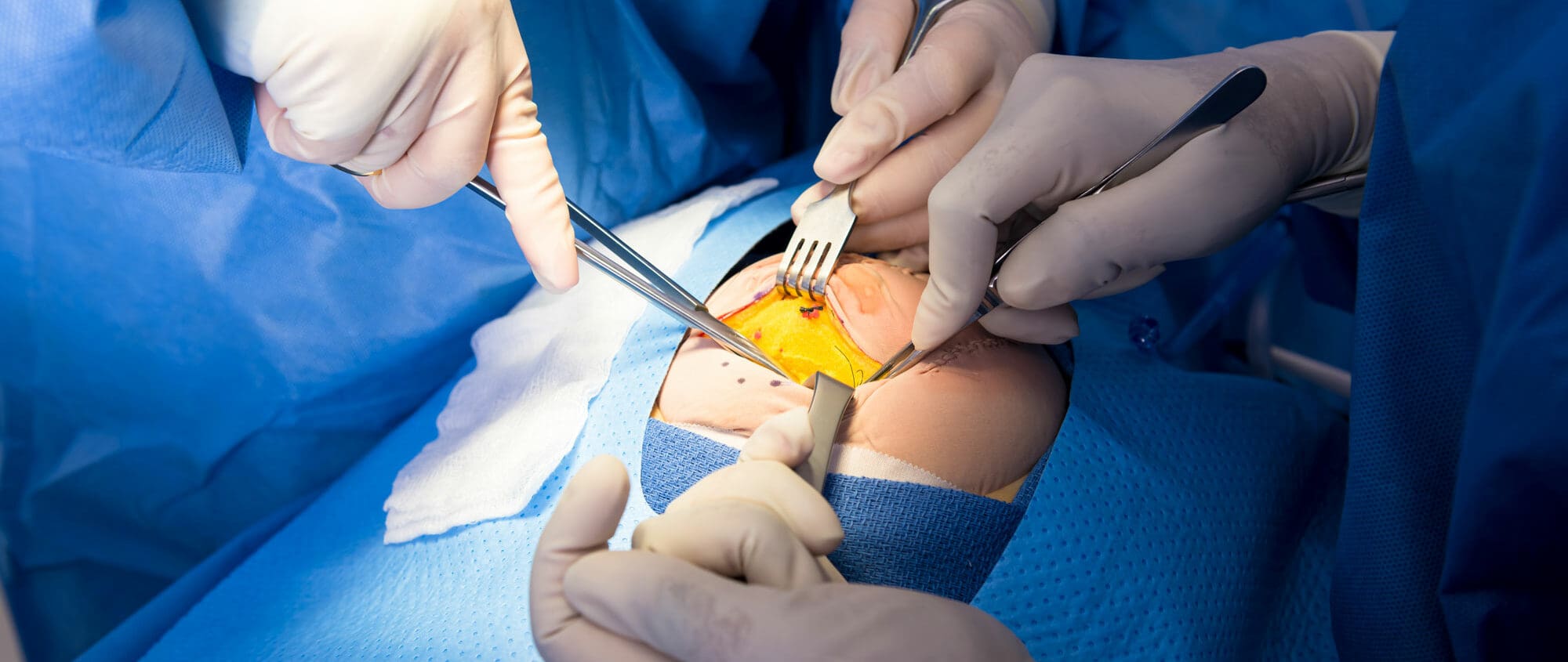 What to Expect in the Surgical Technologist Program
The Surgical Technologist program is available in a 94.5-quarter (21 months) course sequence. Swedish Institute's Surgical Technologist classes are held during weekday daytime hours so that you can begin your career as a Surgical Technologist in as little as 21 months.
We teach our Surgical Technologist students the core competencies that will make them successful in a team environment, working collaboratively and communicating effectively with surgeons, nurses, healthcare teams, patients, and their families. As a Surgical Technologist student, you will gain an in-depth understanding of basic anatomy and physiology, aseptic techniques and infection control, and general and specialized surgical procedures. You will then practice what you learned in your lecture classes by performing simulated operating room exercises in our Surgical Technologist program's laboratory classes.
In the final quarter of your Surgical Technologist program, you will begin your clinical rotation, where you will go out to hospitals and/or surgery centers to gain exposure to real operating rooms and real procedures with real patients. This clinical component is what makes our Surgical Technologist program stand out in providing you with real-world experience to properly prepare you to enter the operating room.
Upon successful completion of the Surgical Technologist program, you will be awarded an Associate in Occupational Studies degree (AOS), as authorized by the New York State Board of Regents. Our Surgical Technologist program is accredited by the Commission on Accreditation of Allied Health Education Programs (CAAHEP).
Does Swedish Institute's Surgical Technologist Program offer a flexible schedule?
Yes! With current COVID-19 Concerns, lecture classes are being taught online.  The flexibility of offering online classes has allowed our students to better balance their home-life responsibilities with children and other family members. Through Swedish Institute's iPad program, every student receives an iPad which assists with virtual learning, virtual classroom, and provides communication with classmates and instructors.
Learn more about our Personal Protection Policy.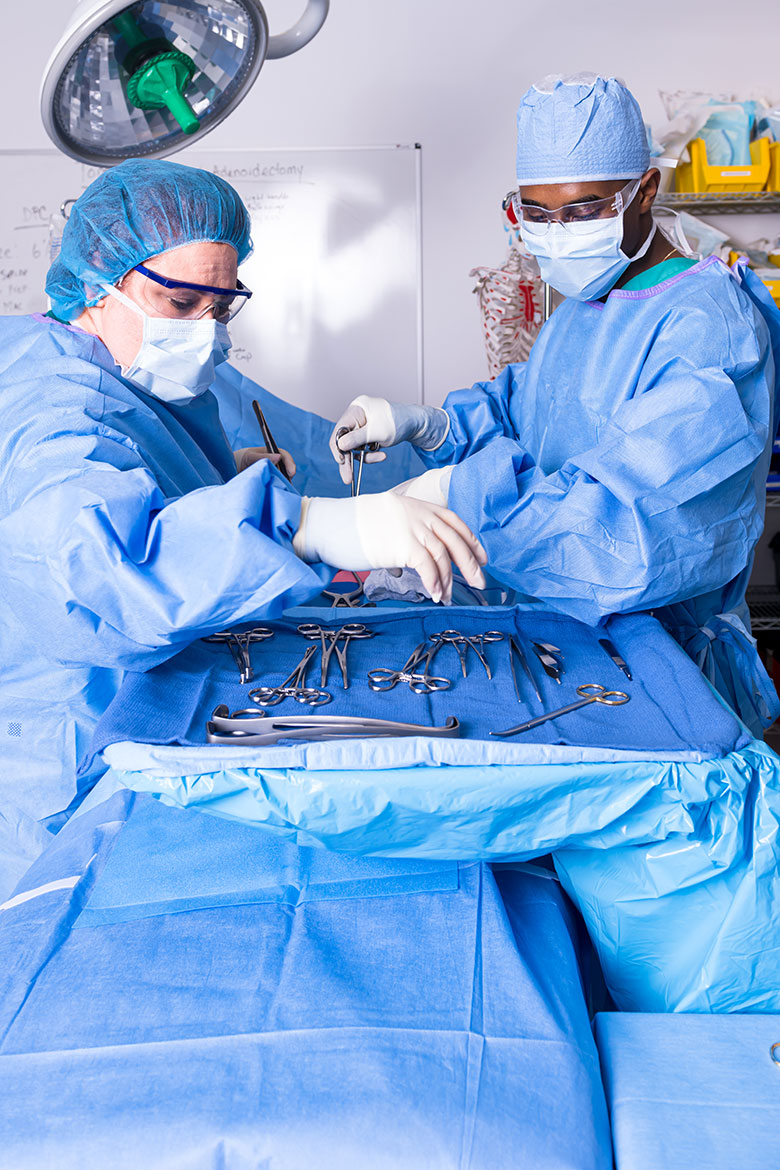 What Does a
Surgical Technologist Do?
Surgical Technologists are an integral part of the team of medical practitioners providing surgical care to patients in hospital operating rooms, outpatient clinics, and similar environments. Surgical Technologists assist during surgical operations and procedures, working as part of the health care team alongside physicians, surgeons, registered nurses and other medical professionals in the operating room.  Surgical Technologist duties and responsibilities may include:
Preparing operating rooms for surgery by maintaining a sterile environment and setting up equipment
Preparing patients for surgery
Assisting doctors/surgeons during surgery by handing instruments and supplies
Managing surgical supplies and inventory
Surgical Technologist Career Opportunities
Our Surgical Technologist program prepares students for entry-level employment in a variety of healthcare settings, such as: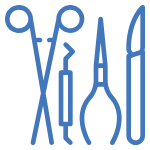 Hospital surgical and sterile processing departments
Outpatient surgical centers
Physician and dentist offices
Ambulatory surgical centers
Surgical Technologist Salary Opportunities
According to September 2021 data from the U.S. Bureau of Labor and Statistics, the annual average wage for a Surgical Technologist in the state of New York was $60,350.* Salary will vary based on experience, location of employment, and the specific job title and duties being performed.
* National Data Source: Bureau of Labor Statistics, Occupational Employment Statistics Survey Occupational Outlook Handbook and Geographical Outlook for Surgical Technologists (site visited 9.15.22) National long-term projections and salary averages may not reflect local and/or short-term economic or job conditions and do not guarantee actual growth or any particular salary. Swedish Institute does not guarantee employment. Swedish Institute cannot guarantee a student's eligibility either to take any exam or become certified, registered, or licensed.
Swedish Institute's programs are registered by the New York State Education Department. Accredited by ACCSC. For important information on program costs, completion and placement rates, median debt incurred, etc., please visit our student consumer information page.