Massage therapy is becoming one of the most powerful tools to help you take charge of your health and well-being Here is some information on medical massage therapy straight from the AMTA 2018 Consumer Study:
AMERICANS ARE SEEKING MASSAGE THERAPY FOR SPECIFIC MEDICAL CONDITIONS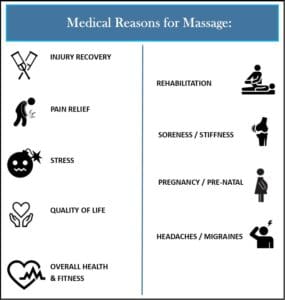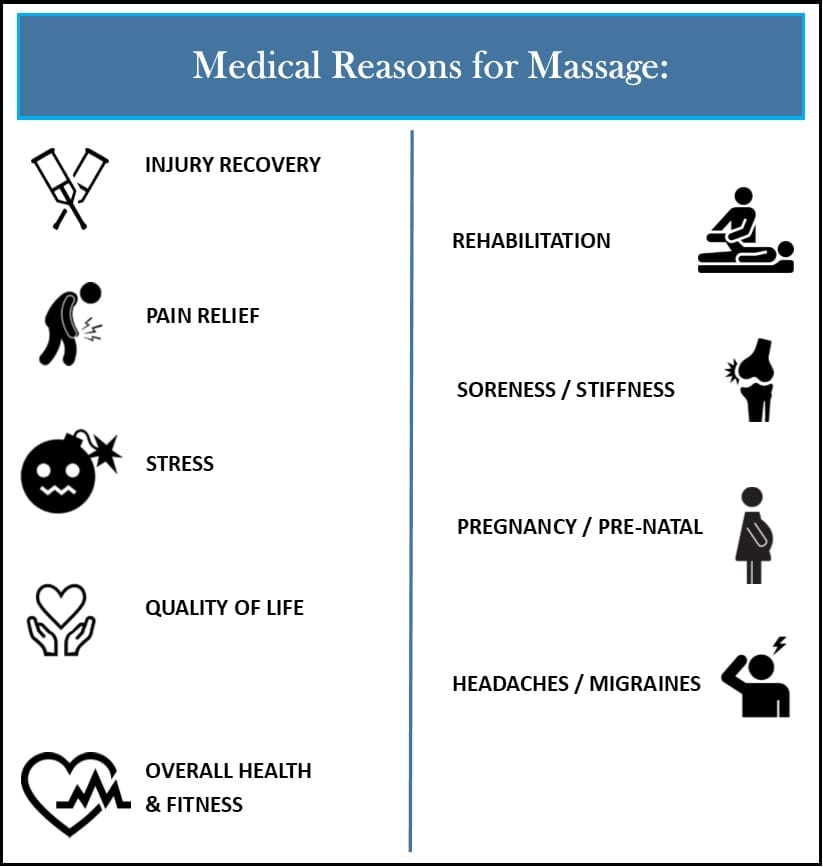 Instead of seeking massage solely for relaxation and pampering purposes, over the past decade Americans have quickly learned the value & efficacy of massage therapy as an integral approach to health & medical conditions.
— 67% of Americans say their primary reason for receiving a massage in the previous 12 months was medical (41%) or stress (26%) related (up from 50% in 2016).
Medical reasons included:
Injury recovery⠀
Rehabilitation⠀
Pain Relief⠀
Soreness/stiffness or spasms⠀
Pregnancy/pre-natal ⠀
To control headaches or migraines⠀
To relieve or manage stress ⠀
For prevention or to improve quality of life⠀
To keep fit/healthy & maintain overall wellness
PEOPLE ARE SEEKING MASSAGE THERAPY FOR REGULAR HEALTH MAINTENANCE⠀
70% agree that massage therapy should be considered a form of healthcare (only 28% believe massage is solely a form of pampering)
88% believe that massage is effective in reducing pain⠀
88% believe massage is beneficial to overall health and wellness
85% have used massage for medical reasons
HEALTHCARE PROVIDERS & DOCTORS ARE MORE COMMONLY VIEWING MASSAGE THERAPY AS A LEGITIMATE OPTION TO ADDRESS HEALTH CONCERNS⠀
67% of Americans said their physician recommended they get a massage – up from 56% in 2016. In fact, pain itself is becoming a very common conversation:
— 33% of respondents have discussed pain relief, injury recovery or rehabilitation with their doctor
— 34% have considered massage therapy as an alternative to opioids or other prescription pain relievers
In Sum:
The growing number of research studies are showing that the benefits of massage therapy are more far-reaching than previously known, and include everything from fibromyalgia and post-operative surgical pain, to tension headaches, and low back & knee pain.  This is why it shouldn't come as a surprise then that employment of massage therapists is projected to grow 22% from 2018 to 2028, which is much faster than average**
As the longest-running massage therapy school in the country (100+ years strong!), Swedish Institute is proud to spread this knowledge and share our love of this powerful healing therapy. The Massage Therapy program at Swedish Institute incorporates both Western and Eastern theories and approaches and offers classes in the morning, afternoon, and evening/Saturday. So if you've ever wondered what a career in massage therapy would be like, come visit us and find out more for yourself!
Click here to learn more about our massage therapy program or call 866.673.6148 to set up an appointment to tour the campus and meet with an Admissions Representative today!
* Source: AMTA 2018 Consumer Study
** Source: U.S. Bureau of Labor and Statistics