At Swedish Institute, our mission is to educate students to become skilled, ethical, culturally competent and compassionate massage therapists, nurses, and allied health professionals serving the diverse communities of the Greater New York Metropolitan Area.  We are always amazed at the dedication and determination that our students exhibit, particularly when faced with obstacles and challenges that arise unexpectedly.  We share their stories to inspire and motivate other current and prospective students who may themselves feel uncertain or overwhelmed at times.
This month's featured student is Samantha Hawkins from our Clinical and Administrative Medical Assisting program.  Samantha, 24 years old, was born and raised in the Bronx, where she currently lives with her fiancée and two daughters (ages 2 and 6 months).  Samantha lost her job in March due to COVID.  Although she was 5 months pregnant at the time, she made the decision to enroll in college at Swedish Institute so that she could achieve her goal of working in a hospital to have a stable career.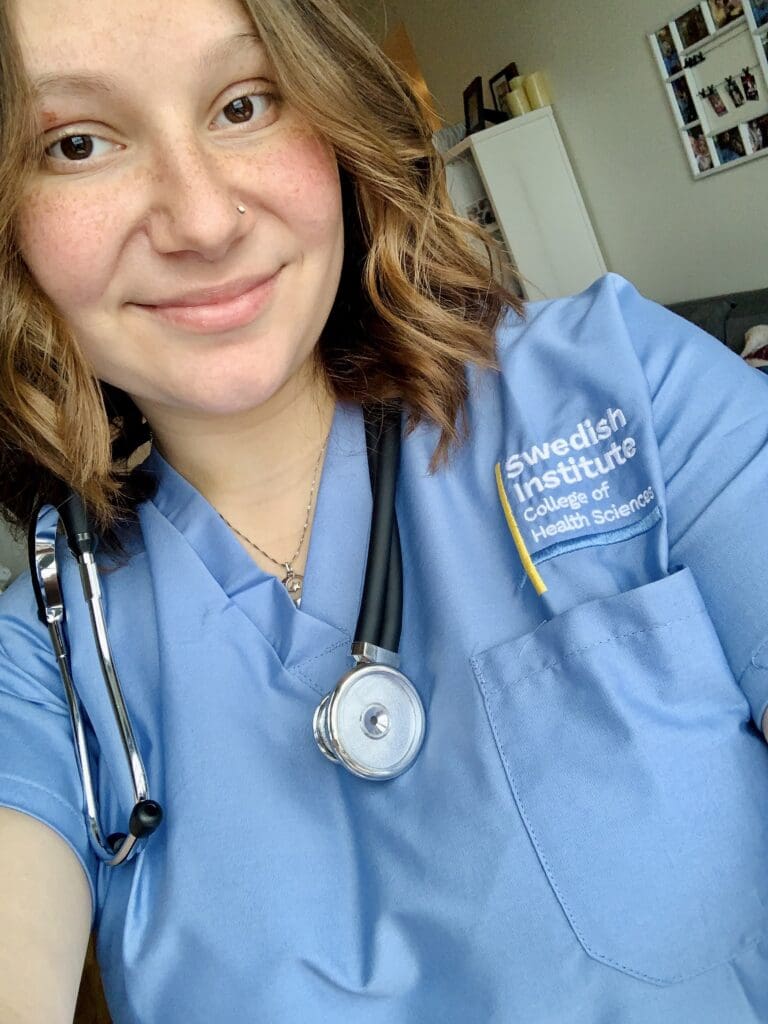 "I have always wanted to help people and I felt being in the medical field was the best way to do that," explains Samantha.  "I had applied to Swedish Institute back in the beginning of 2020 and was going to start going to school in April but then I found out I was pregnant with my second child and felt discouraged. Something in me thought that I wouldn't be able to handle school, work and a new baby. In March, when we went on shutdown, I lost my job due to COVID.  It upset me because not only did I back out of school but I was jobless. I fell into a dark place for a while until one day I said to myself, 'I'm never going to achieve anything or provide for my family by moping around.' I made the decision to start school even though I knew it was going to be difficult because this is something I had put off for too long."
Unemployed, heavily pregnant, and knowing she was scheduled to be induced two days after the start of the summer quarter, Samantha still started classes in the spring as she had originally planned to.
"Samantha captured my attention when I first saw her in July 2020," explains Dr. Sharmalan Sathiyaseelan, Program Director for the Clinical and Medical Administrative Assistant program. "While in class she mentioned that she was almost full term pregnant with her second baby.  Then just few days later, while we were in the middle of the quarter, she logged into class holding a baby, and calmly mentioned she just delivered a day before!  She was so focused with classes and to complete the program that she didn't take any time off post-natal."
Samantha explains that is has not been easy juggling school while being unemployed and taking care of her family, but she is determined to push through the obstacles.
"It has been a challenge to go to school and raise two kids. There were times when I felt like giving up and times where I felt overwhelmed. I've had sleepless nights due to caring for a newborn and although I was exhausted, I still pushed myself to get up and attend my morning classes."
Last month, right at the beginning of the holiday season, Samantha was hired for a job working as a patient care representative at CityMD.  Dr. Sathiyaseelan adjusted her class schedule to allow her to work during the day to support her family while attending classes in the evening.  Samantha just began her winter quarter classes and will be graduating from Swedish Institute next April.
"Despite the hardship, she has maintained impressive academic results these last 2 quarters," says Dr. Sathiyaseelan. "I believe with this type determination, she can achieve her goals to further her education in the medical field. Swedish Institute is preparing her to achieve her goals!"
Samantha concludes, "I am truly grateful that I am a student at Swedish Institute.  It's given me the ability to have courage and to believe in myself and the things I am capable of. I am going to continue to push myself to graduate and become a Certified Medical Assistant."