For over 100 years, Swedish Institute graduates have been providing essential care in the healthcare professions of Nursing, Medical Assisting, Massage Therapy, Surgical Technology and Medical Billing and Coding.  Since our inception in 1916, we have graduated thousands of healthcare professionals who have brought their care and services to hospitals, clinics, medical spas and much more.  Whether it has been behind the scenes volunteering at Ground Zero after 9/11, or on the front lines as part of the medical staff at Mt. Sinai in the wake of COVID-19, our alumni have been supporting the NYC community for decades.
It has been 9 months since COVID-19 changed our entire world.  We want to take a moment to salute all the healthcare heroes from our own Swedish Institute family who have been serving both on the frontline and behind the scenes.
Here are just a few of their stories.
SERVING ON THE FRONTLINE
Dwayne Brown
Nursing, Class of 2018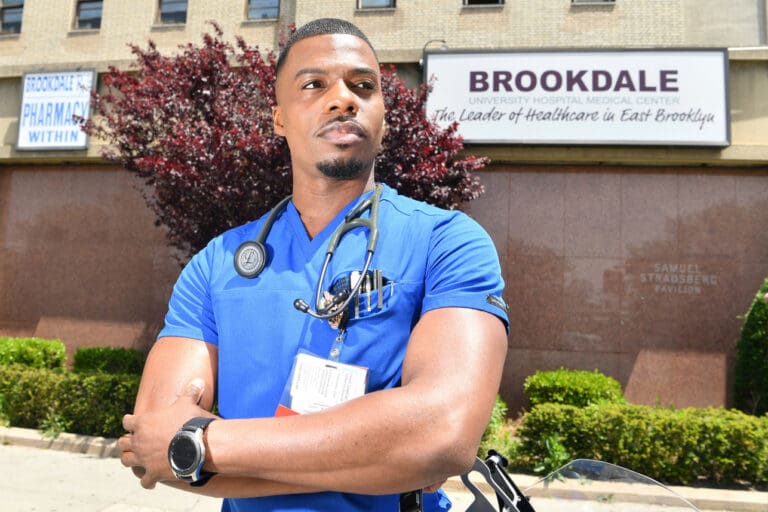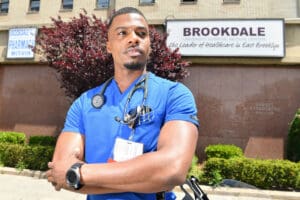 Photographer: Paul Martinka
Dwayne Brown has been working full-time as an RN at Brookdale University Hospital Medical Center.  At the height of the coronavirus crisis, he was clocking 20-hour shifts at the hospital regularly when the hospital was short on nurses.  He recalls one night that he worked for 24 hours straight when the crisis was in full swing at the hospital.
"I came in to help the night shift and there were only 3 nurses at night and usually there's like 11 or 12 nurses," Dwayne recalled.  "I had 19 patients …my objective that night was to keep as many patients alive [as possible], I was going from room to room screaming 'keep the mask on' [for patients on bipap machines], it was very stressful."  He recounted an experience with one patient who went into cardiac arrest and he was able to resuscitate her until a short while later when she coded again.  "I was the only person in the room so I had to scream for help so we could call back another code."  Unfortunately, after about 20 minutes of chest compressions, the woman succumbed, leaving Brown frozen in a catatonic state.  "It left me really shaken up, I am thinking of myself and my family and my friends and also the 18 other patients I have to care for."
Early on in the crisis, Dwayne's mom caught COVID-19 as did a few of his coworkers and friends, so he used his time off to care for them like they were his own patients.  He would go straight from work to his mom's house on Long Island to bring her vitamins she needed, or walk to his friends' houses to make sure they were fine.  "I wasn't even resting on my day off, I was basically working seven days a week. Paid and unpaid."
"Some people get joy in caring for people, that's me.  I live in Flatbush, it's mostly a Caribbean area, and I really like to care for people within my community because most of them are disenfranchised and they don't have a lot of education, there's a lot of poverty and a lot of crime and violence so as a nurse and as a good nurse, I really wanted to stay within my community and help them and show them love," explains Dwayne.  "When it comes to people and helping people, that's basically my destiny.  I always say, I did not choose nursing, nursing chose me."
—————–
Weadly Jean
Nursing, Class of 2018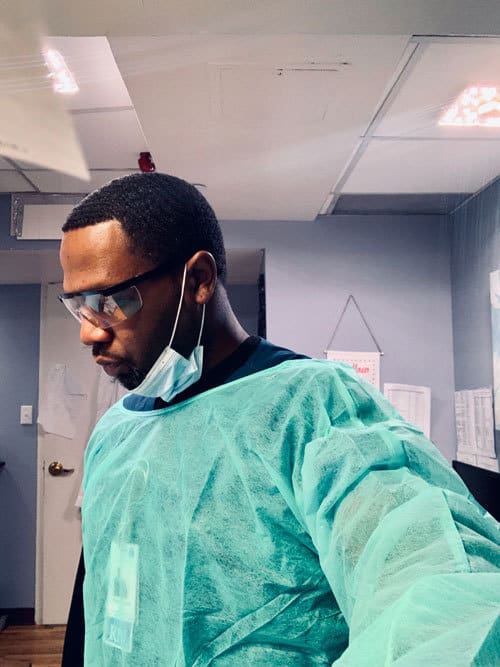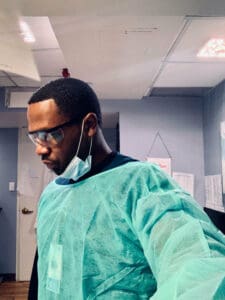 Weadly Jean began his nursing career as a field nurse where he visited patients in their homes.  He now works as a Nursing Supervisor for Meadow Park Rehab & Healthcare, where he is responsible for addressing all units in the building.
"I remember when we were made aware that we were on the verge of a pandemic. It was during our morning meeting and our Director of Nursing informed us that according to DOH and CDC there was a virus upon us and it was projected to hit us hard. At the time her words were powerful, but it wasn't until weeks later did I really realize the true impact of her words."
Weadly recalls getting his first code blue at the beginning of the pandemic.  "I immediately ran up the stairs to the resident's room to find our nurses performing CPR. I assisted in rotating between proving compressions and breaths but realized that we were doing CPR on a patient that had already passed. For the next two weeks we lost at least 1 patient a day. It was a very surreal feeling being so close to death, and having interacted with almost every resident in our building, every loss was devastating.  It was a wake up call to me."
We asked Weadly what motivates him to keep going.
"Facing this pandemic is an everyday battle not just for me, but for all those on the frontline, and all those that are affected by this virus. While it has been very challenging, the fact that I can provide a certain sense of comfort to our residents encourages me to continue.  
I initially choose to be in this profession because almost everyone in my family is in health care, so naturally I gravitated towards the field.  However as I began my nursing career I learned the value of what I actually do. When I see my patients, I see all the elderly members of my family in their faces and I take pride in being able to be a source of comfort to them in any way possible.
I've expressed to my staff on several occasions that you don't join the army if you're afraid of going to war…and we as health care workers don't join the field if we are afraid of providing our assistance and care for those that need it in the face of a clinical war.  We know that when we are able to get past this situation we will be able to look back at what we did and be proud of it."
—————–
Bridges Jones
Nursing, Class of 2016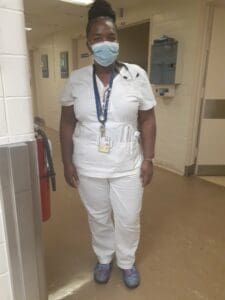 Bridges Jones is currently working at Harlem Hospital where she has been employed for 14 years — four of those years as a Registered Nurse in the Med-Surg unit, after graduating from Swedish Institute.
At the height of the pandemic, Bridges had to work very long hours while navigating through the unknown causes and cure of the virus.
"We experienced very stressful times," said Bridges.  "Our unit mostly saw patients in their mid 40's to 50's. We had a few who eventually were put on a ventilator.  Fortunately, our unit did not have any fatalities due to Covid-19.  If any of the patients in her unit did become critical, they were transferred to other units."
Bridges attributes the healthy recovery of her patients to following the plan of care, keeping the patients clean, wearing PPE, no cross contaminating and frequent hand washing. "It is important to rely on science of nursing and suggest needed care for patients with the physicians", she further explained.
We asked Bridges what keeps her motivated. ""Working in the  Med- Surg Unit has its challenges aside from Covid-19, [but] I try not to get locked into fear. I always felt that fear attracts what you want least in life. So, to relieve stress and to stay focused I meditate, use breathing exercises and pray. I also stretch, take vitamins and eat right."
Bridges continues to volunteer much of her time at a clinic where she does Covid-19 testing.
—————–
Massage Therapy has long been known for its physical and mental health benefits, in particular for those who must cope with the physical and mental exhaustion of working on the frontline.  Swedish Institute's Massage Therapy Program has supported these frontline workers throughout our 104 year history.
From working on the volunteers at Ground Zero, to bringing massage therapy sessions to the staff at St. Barnabas Hospital each year during Nurse Appreciation Week, we have always risen to the occasion to provide our time and our therapeutic touch for those that we depend on immensely.  Through both our student externship program and our on-site clinic, giving back to these vital individuals has always been our goal.
While they may not currently be working on the frontline themselves, our Massage Therapy alumni play an integral role in supporting those who currently are on the frontlines.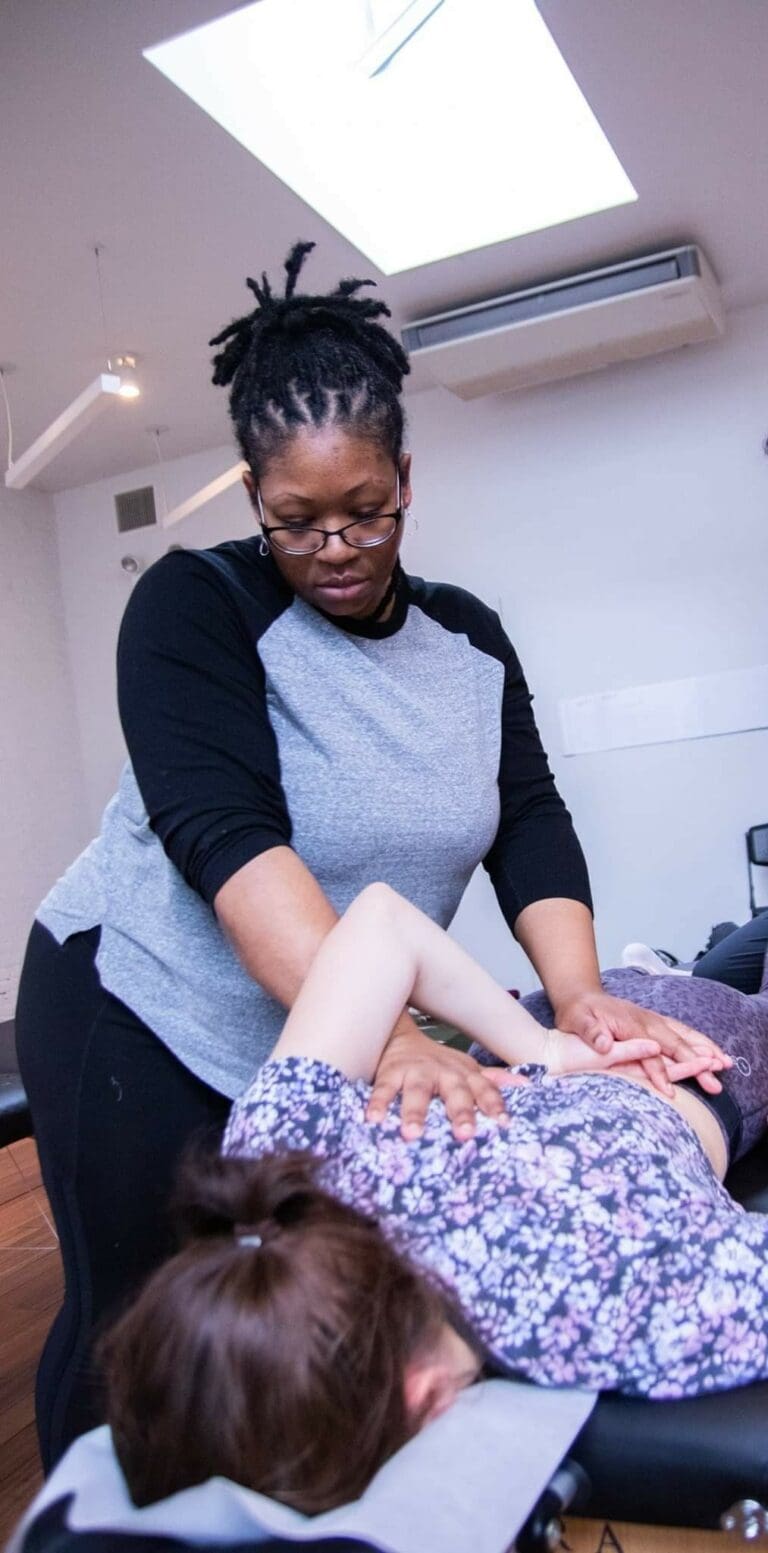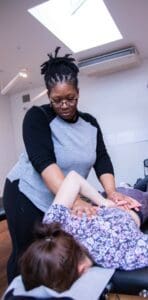 Tiprinia Diggs
Massage Therapy, Class of 2018
"My experience working with nurses at a New York City hospital was wonderful," says Tiprinia. I got to meet different people with diverse backgrounds, but they all had one thing in common….STRESS.
Nurses are in a high-stress environment and just doing 20 minutes of chair massage on the nurses was great. I could see a little bit of tiredness leave, a little bit of stress say goodbye, just an overall pick-me-up to the day so they could go another eight hours. If they were about to finish a shift I was told it was easier to calm down from energy mode before they head home so they can actually get rest. That hit my heart and I'm proud that I was able to help. I made a job that is so stressful a little easier to get through.  
Nurses go through a lot on the job, and therapeutic touch is a necessity."
—————–
Krystal Bartholomew
Massage Therapy, Class of 2017
Krystal Bartholomew had the opportunity to represent Swedish Institute's Massage Therapy program at the Hospital for Special Surgery to support wellness in the healthcare industry.  The Nursing staff at HSS, along with key leadership, were given the Swedish Institute reminder that "Self-Care is for those who provide Care"!  Krystal was able to utilize chair massage techniques during a highly stressful environment.
"Nurses are caregivers, always taking care of us when we are ill," says Krystal.  "They are and have always been an essential key to a hospital or clinic setting, even more so now during a pandemic.  They work 12+ hour shifts.  What better way to give back to a Nurse than MASSAGE!  Massage is a great way to help a Nurse destress and relax after a long shift.
I have been helping my Nurse friends destress with many different techniques, aroma therapy, myofascial release, and relaxation strokes.  Scalp massage is one of the best ways to get a nurse to relax their body and mind after a long shift. I use some Reflexology points on feet to release tension from being on them for so many hours. This gives the person an hour to be present, in the moment, and enjoy something that feels good with many health benefits and rewarding for all that they do."