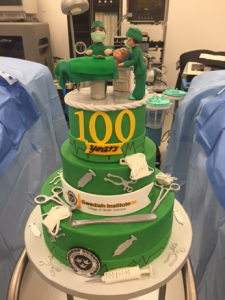 Swedish Institute was bustling with excitement last September as nearly 400 alumni and faculty gathered for the institution's Centennial celebration. Over the past 100 years, Swedish Institute has earned its stellar reputation as a leading institution dedicated to natural healing, wellness and healthcare–graduating thousands of students from the New York area and around the world.
Swedish Institute was founded in 1916 as the Swedish Institute of Physiotherapy and is the oldest continuously operating massage therapy institution in the country.  The school has seen some name changes along the way, but its mission has remained steadfast. Throughout the years, Swedish Institute has made its mark to meet the needs and demands of the industry by expanding its curricula and broadening its commitment to innovative healthcare practices.
Attendees of the Centennial event were front and center to experience this nostalgia and history of their school. Some standout moments included the dedication of the fifth floor as Eckardt Hall and the outstanding exhibits designed by each academic department which showcased the disciplines and attributes of their programs. Other highlights of the event included the student art exhibit and performances along with speeches and a raffle. The Centennial Committee received special recognition for their amazing efforts and the countless hours they worked to coordinate this spectacular event.
"I have never been prouder to be a part of this wonderful institution," said Peter Neigler, president of Swedish Institute. "Now…on to the next 100 years!!!"